ABC Day 2023 - Looking back: The artworks made live at the event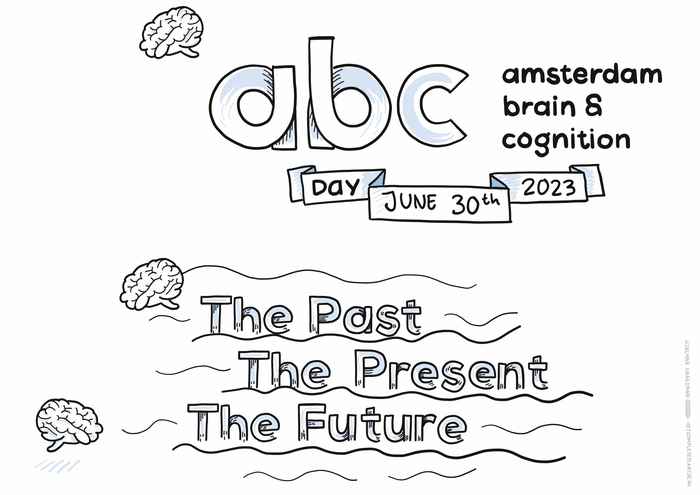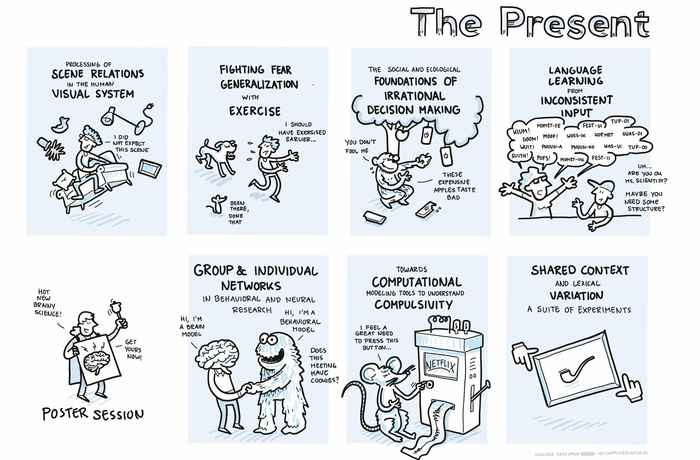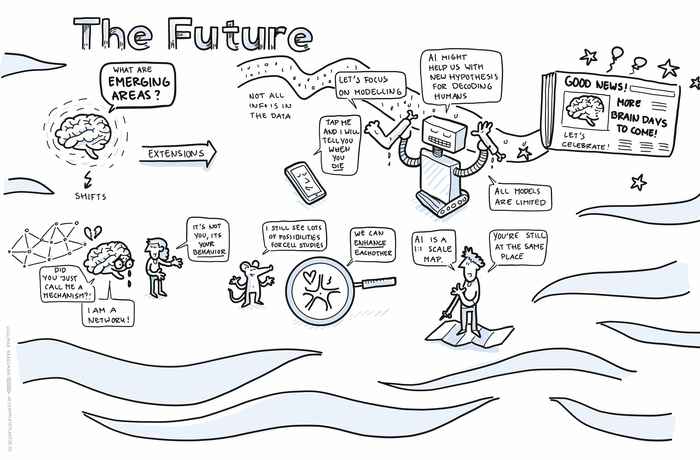 ABC Day 2023 - Event announcement
Registration open from 12:00 for your day badge
Program starts at 13:00
Registration closed June 2023
& Join us for a unique and exciting event that will explore the past, present, and future of Amsterdam Brain and Cognition and brain research at the UvA and AMC:
- The Past: Highlights from ABC success stories
- The Present: Ongoing projects, cutting edge science
- The Future: Young ABC members, poster session (and best poster prize!)
and lots of Networking
An artist will help us join these three epochs of ABC and will create something unique for our community. Enjoy a standing dinner with us from 18:00 with time to continue networking and discussions, and informal conversations with fellow ABCs!
Profile Blitz: Have your portrait captured in our photo booth between 18:00 and 20:00
Don't miss out on the opportunity to engage with like-minded individuals and be a part of something amazing.
The program
12:00 - 13:00
Registration open
Coffee available
13:00 - 13:30
Welcome address
Intro to the program and to the artist in residence
Umberto Olcese - for the organizers
Birte Forstmann - ABC Scientific Director
13:30 - 14:45
The Past
Short presentations from past projects
Joe Bathelt (FMG)
Fleur Bouwer (FMG)
Anne Marije Kaag (VU)
Harm Krugers (FNWI)
14:45 - 16:00
Poster Session & Networking break
Coffee & snacks
16:00 - 16:50
The Present
Pitch presentations from running projects
Giacomo Aldegheri (FMG)
Wouter Cox (FMG)
Karline Janmaat and Evy van Berlo (FNWI)
Imme Lammertink (FGW)
Maarten Marsman (FMG)
Jorge Mejias (FNWI)
Marieke Schouwstra (FGW)
16:50 - 17:30
The Future
Roundtable
A vision for the future ABC and brain research at the UvA
with
Birte Forstmann, Harm Krugers, Guido van Wingen, Henkjan Honing, Richard Ridderinkhof
17:30 - 18:00
Conclusions
Poster prize awards, Artwork presentation, concluding remarks
18:00 - 20:00
Networking
Borrel + Buffet dinner
18:00 - 20:00
Blitz profile portrait sessions with a photographer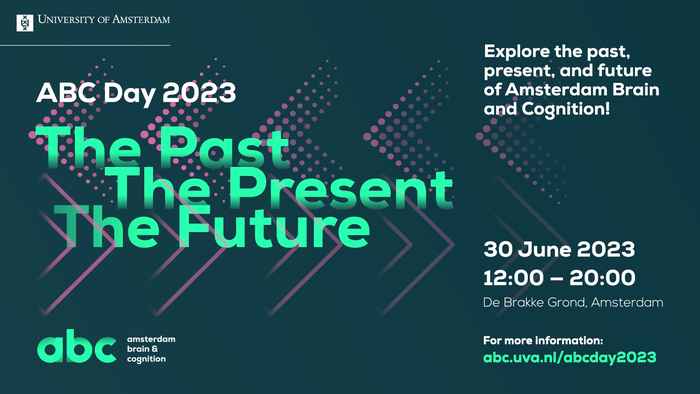 We look forward to welcoming you Friday 30 June at De Brakke Grond!
The ABC Day 2023 organizing committee,
Tessa Blanken
Umberto Olcese (Chair)
Makiko Sadakata
Anouk Schrantee
Speakers & Talk Titles

The Past

| | |
| --- | --- |
| Joe Bathelt | Neural and Behavioural Heterogeneity in Neurodevelopmental Conditions |
| Fleur Bouwer | Beyond the beat: neural mechanisms of temporal expectations when rhythm is not a metronome |
| Anne Marije Kaag | Sex and gender differences in the working mechanisms of addiction |
| Harm Krugers | (Early life) stress and memory: from synapses to engrams and behavior |
The Present

Giacomo Aldegheri
Processing of scene relations in the human visual system
Wouter Cox
Fighting fear generalization with exercise
Karline Janmaat and
Evy van Berlo
The social and ecological foundations of irrational decision-making: a cross species examination
Imme Lammertink
Language Learning from inconsistent input
Maarten Marsman
Group and individual networks in behavioral and neural research
Jorge Mejias
Towards computational modeling tools to understand compulsivity
Marieke Schouwstra
Shared context and lexical variation: a suite of experiments
Location
Vlaams Cultuurhuis De Brakke Grond
Nes 45, 1012 KD Amsterdam